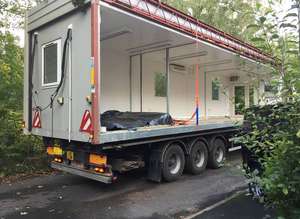 A Commitment to Health & Safety
At CMS we are just as committed to the health, safety, welfare and the quality of life of our employees as we are to the quality of their workmanship and the efficient fulfilment of contracts. To this end, our crews are trained to national standards and we carry full CITB, CSCS, PTS and NICEIC certification. We operate our own Health & Safety programme and document review system, complete with Method Statements and Risk Assessment. Equally, we recognise our responsibilities for the Health & Safety of others involved in, or affected by, our activities.
Risk Assessments/Method Statements are an essential part of the CMS Health & Safety programme. The company makes use of all relevant methods to manage risk to employees, contractors, customers and the public and to meet the requirements of the Management of Health & Safety at Work Regulations 1992. Risk Assessments/Method Statements are conducted in accordance with legislative requirements. Risk Assessment is applied according to the complexity and nature of the task under examination. It is a precondition to the introduction of any new system or task.
Risk Assessments/Method Statements
Risk Assessments/Method Statements are carried out by the Project Manager prior to the commencement of all contracts. All managers and supervisors are responsible for ensuring that Risk Assessments are carried out for all significant activities under their control. The findings of the Risk Assessments are communicated to all employees, contractors, customers and others affected by them. Any hazards identified during risk assessment are reviewed and all reasonably practical actions that can reduce risks are implemented.
All Risk Assessments/Method Statements cover details commensurate with the perceived level of risk. The objective of risk assessments in all cases is to identify all risks, and to implement measures that will eliminate or reduce risks to the lowest levels that it is reasonably practicable to achieve.
All Risk Assessments carried out by CMS Limited are fully documented and continually reviewed.
CDM
We adhere to all Construction Design and Management (CDM) regulations, ensuring that our clients are fully aware of their responsibilities, pay due regard to Health & Safety at work, and provide adequate information about Health & Safety risks.
Identifying hazards in the workplace, assessing the risks related to them and implementing appropriate preventative and protective measures
Providing and maintaining safe plant and equipment
Establishing and enforcing safe methods of work
Recruiting and appointing personnel who have skills, abilities and competence commensurate with their roles and levels of responsibility
Ensuring that tasks given to employees are within their range of skills, knowledge and ability
Ensuring that technical competence is maintained through the provision of appropriate refresher training
Issuing relevant information to promote awareness of health and safety standards and good practice
Furnishing the resources needed to meet these objectives
We have also completed IIF courses run by BAA at Terminal 5
Accreditations & Certifications
ISO 9001 Accredited
Achilles
Safe Contractor
Constructionline
Appointed Person/Banksmen
First Aid
Forklift Drivers
Crane Superviser
PAL
PASMA
CSCS
CPCS
SSSTS
SMSTS
PTS
NEBOSH
CHAS
Portable Building Enquiry
Looking for Portable Building Services?
Complete the form below and we will contact you to discuss your requirements.