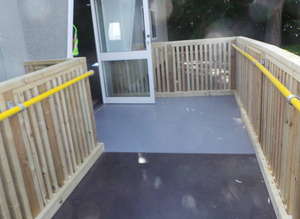 Accommodation Access Solutions
Linkways
We manufacture capsule or component links tailored to fit the applications required.
Stairs & Gantries
With so many different types of applications, we have our own in-house fabrication engineers who design, construct and install bespoke stairs or gantries. We favour steel constructions to comply with fire and DDA regulations.
Ramps
Our comprehensive range of bespoke ramps covers a wide variety of applications suitable for public works, commerce and construction. All of our ramps comply with Disability Discrimination Act (DDA) standards and we have completed numerous projects for schools in various formats, colours and sizes.
Disability Discrimination Act
As a result of the Disability Discrimination Act 2004, in the interests of inclusive customer care, service providers are now required to accommodate people with disabilities by removing, or providing alternatives to, all physical barriers to access, such as steps, narrow doors and gangways. You may already be complying with many of these requirements but if not, provision of suitable access does not have to be expensive. A portable ramp can provide an immediate, low cost solution and benefit all your customers.
Portable Building Access Solutions Enquiry
Looking for Portable Building Access Solutions?
Complete the form below and we will contact you to discuss your requirements.