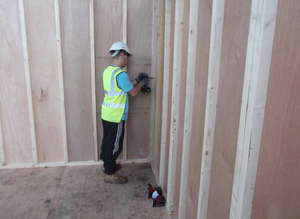 Quality Fitout Services Include:
Carpentry
CMS undertakes a wide range of high specification carpentry and joinery at excellent value for money. Due to our professionalism, skilled workmanship and efficient project management, we can guarantee a faultless end product. Our services include the fitting of all interior timber finishes including skirting boards, door frames and doors, floors, ceilings, stud walls, staircases and banisters.
Partitions
CMS designs and installs partitioning systems to maximise the efficient use of space where it is at a premium. We can divide work areas or create additional rooms to meet clients' specific site requirements. Our partitioning systems, listed below, are selected from a wide range of quality manufacturers. We can advise on appropriate systems based on acoustic properties, fire performance, stability, structural features, as well as the visual impact and design required.
Solid wall systems
Aluminium, steel, timber or frameless glass systems
Relocatable systems with cover trims and vinyl overlay
Fixed systems with plaster and paint finish
Single or double glazed systems with or without integral blinds
Door modules in glass, veneer or solid wood
Whether as part of a refurbishment or simply the creation of more suitable working space, we can supply you with just the system to suit your budget and timescale. Combined with our flooring, ceilings and painting and decorating services, we are able to create entirely new working environments.
Ceilings
We regularly undertake the installation of false and suspended ceilings provided by various manufacturers.
Decoration
Our decorators are all fully competent and achieve a very high standard of work and finish.
Portable Building Fitout & Refurbishment Enquiry
Looking for Portable Building Fitout & Refurbishment?
Complete the form below and we will contact you to discuss your requirements.