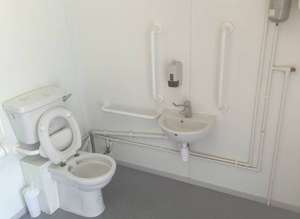 Complete Utility Installation Service
Electrical Services
CMS guarantees NICEIC approved workmanship to IEE Regulations.
The work undertaken by our electrical division includes the installation of mains supplies for portable units from mains distribution outlets or generators. Mains wiring is installed by competent electricians to the highest standards. We carry out the internal wiring of units for either new installations or refurbishments, and the removal of wiring and mains electrical supplies from cabins that are no longer required. We also handle a variety of other electrical works for small and large scale commercial and industrial installations. Our electricians are all fully qualified with over 20 years' experience in the electrical trade.
Upon completion, all works are issued with an NICIEC Certificate. We also carry out periodical inspection tests of electrical installations.
Plumbing Services
Our plumbing services include the installation of complete sanitary systems by qualified engineers. The scope of work undertaken by our plumbing division includes:
Toilet cubicles
Urinals
Shower blocks
Washing facilities
Wet heating systems
Sprinkler systems
Main drainage and soil installation
Installation of septic tanks
Portable Building Utility Service Installation Enquiry
Looking for Portable Building Utility Service Installation?
Complete the form below and we will contact you to discuss your requirements.